To encourage everyone to get monitoring we're giving away 10 energy meters – one for every 50th 'like' we get on Sust-it's Facebook page. So go on, keep up to date with Sust-it and you could win a Power Meter today – and save a great deal long-term!
We've been running our 'Repair vs Replace' service for over a year now; helping find information on the energy usage of old appliances and enabling you to compare these against new energy efficient models. What we've noticed from the enquiries is that there are still a lot of very old appliances working away in our homes, some over thirty plus years old! Whilst there may be a green argument that 'if it's working don't replace it', this is often not the case with high energy consuming products such tumble dryers, washing machines and freezers; these appliances use a great deal of electricity during their life – especially those that pre-date the introduction of energy labels, which there appears to be a lot of! We have some staggering examples of freezers that are costing £120 per year to run.
If we can't find any information regarding old products we advise consumers to borrow or buy an inexpensive power meter, to check out what they are consuming. If you send us your data we can then workout what the savings could be if you replaced your existing appliances with modern energy efficient models.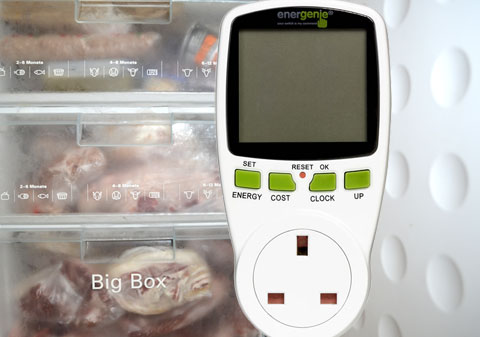 * UK residents only, promotion started July 2012