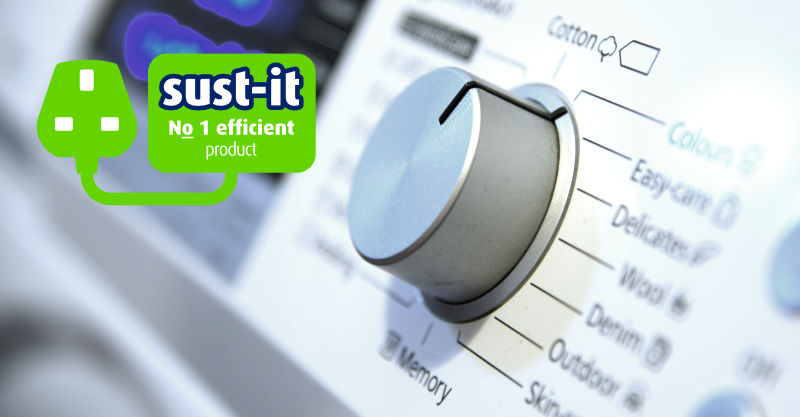 There seems to be no getting away from it that the most energy-efficient washing machines, tumble dryers and refrigeration products tend to be expensive. Premium brands such as Miele, LG, Siemens, Liebherr and AEG certainly top our efficiency tables. Saying that some excellent midrange and budget appliances and electricals are out there. However, finding these isn't easy, as energy labels don't highlight the actual costs of running appliances. That's where Sust-it's Green Plug Score can help you find the best energy-saving appliances, whatever your budget.
What is our GreenPlug score?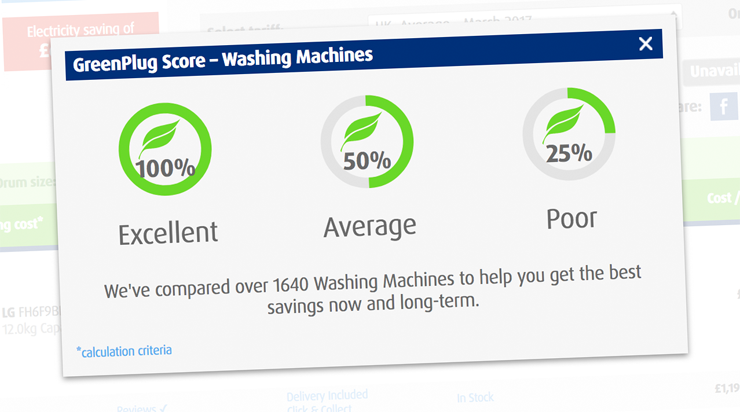 To help you find the most energy-efficient products, we've introduced a new 'Green Plug Score' percentage. This compares ALL products within our database, giving them a score out of 100. The best products in the marketplace score 100%, and the worst score a measly 1% – these low-scoring, energy-hungry electricals are best avoided!
100% – This is the most efficient in the marketplace
50% – Average energy usage performance
25% – Poor, inefficient products
How to find energy-efficient products on a tight budget?
Sust-it ranks products by their ultimate energy efficiency based on their published energy labels or manufacturer's specifications. This highlights the most efficient products in any chosen category regardless of price. By using the select menus, you can filter options down further, e.g. by brand or capacity if you're looking at washing machines. These filters then rank products showing you the most efficient by a particular brand or its capacity.
Sort by 'Purchase Price' or 'Total Cost of Ownership
Our select filters also allow you to select products by Purchase Price and Total Cost of Ownership. Now, this is where our 'Green Plug Score' helps you find well-priced and efficient products on the market. Affordable doesn't always mean you have to compromise on energy efficiency. Often there is a reasonably priced fridge, freezer, washing machine or tumble dryer that won't cost the earth to run. Simply choose by the Purchase Price filter, and the cheapest products appear. You can still use the other filters to drill down further, making it easy if you prefer a particular brand or capacity of fridge, washing machine, tumble dryer, or even TVs and computers.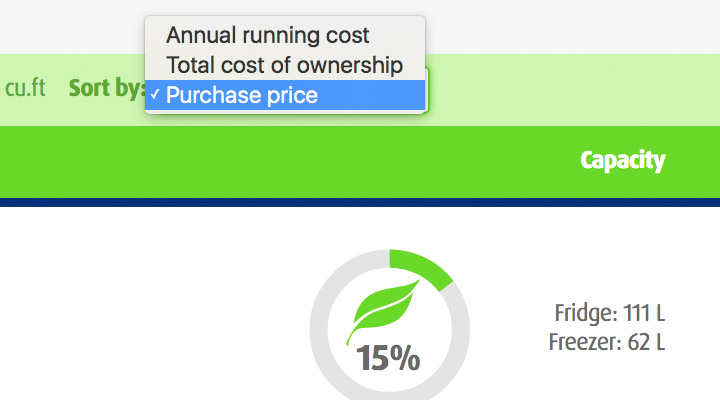 What is the 'Total Cost of Ownership'?
This is the 'cost of purchase' and the 'lifetime running costs' (average amount of electricity and water [if applicable] consumed by the product at current values, excluding any consumables, repairs or maintenance) added together. Based on the average life expectancy of any given product, e.g. an Undercounter Fridges is 15.5 years*.
Judging products by 'total cost of ownership' can get a little tricky. Why? Because it tends to favour very cheap products over the more expensive and potentially longer lasting higher quality products. Our advice would be to take a look at the manufacturer's warranty information; this gives you a good indication of the life expectancy of their products.
When should you replace old freezers, fridges, washing machines and dishwashers?
Running a twenty-year-old fridge might seem like you are being thrifty and green; I'd think again! Fridges and freezers run 24 hours a day, and energy efficiency has improved vastly over recent years. We've developed a simple-to-use tool to help you see the potential savings for chest freezers, fridges, washing machines and dishwashers.
When should you replace old appliances?
See the most energy efficient...
← SWIPE →
Getting good deals on freezers, fridges, washing machines, tumble dryers and dishwashers – cash back, best buys and revues?
Keeping an eye on retailers' discount code offers can save money –Sust-it keeps an updated list of discount codes and offers. Combining these with manufacturer's promotional deals, extended warranties, and cash-back offers could dramatically reduce ownership costs.
* Life expectancy source UK Gov (defra) 2009
Please note: We do not publish sponsored content or guest posts promoting specific products or brands. If you have a genuine newsworthy story you would like to share, please comment or email.