Buying a Porsche isn't typically a consideration for an environmentally aware consumer. But in a bid to up its green credentials and appeal to more business buyers, the luxury marque has introduced a new and improved Panamera plug-in hybrid, emitting only 71g/km CO2 and offering fuel economy of 91mpg.
Porsche introduced its first hybrid of the model, two years ago, which emitted 159g/km CO2, which meant it fell beneath the Capital Allowance threshold at the time for companies.
Now, at 71g/km CO2, (158g/km CO2 if you include electricity emissions) it drops well below the latest threshold of 110g/km and also offers Benefit-in-Kind taxation of just 5%. It's also exempt from the London Congestion Charge.
Of course, the pay-off for this kind of economy packaged in a performance Porsche is the starting price – a mere £88,967.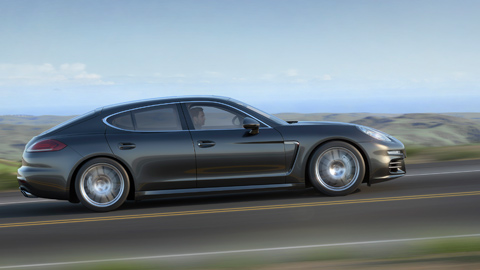 Powered by a 3.0-litre V6 supercharged petrol engine, along with a 70kW synchronous electric motor which together offer 416hp, with an eight-speed auto gearbox, the Panamera S E-Hybrid achieves 0-62mph in a swift 5.5 seconds, and has a top speed of 186mph.
In electric mode alone, the range will be somewhere between 11 and 22 miles, with a top speed of 84mph, while charging on a traditional household electric supply takes three to four hours.
There's four driving modes – standard, E-Power that enables largely all-electric driving, E-Charge which charges the battery during the drive and Sport which offers a Porsche-like performance with sporty direct handling.
On the road, the car is a pleasure to drive – and although its handling isn't as good as the standard Panameras due to the extra weight – it's still a Porsche through and through.
In a consumption test by motoring journalists, two very conscientious (and competitive) drivers managed 0.1 litres per 100km, but the more commonly achieved figure was 3.1l/100km, and even this was with careful driving. Running costs for 12,000 miles including electricity, should be £1284 based on VCA data.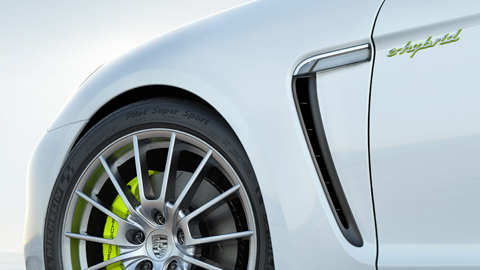 Porsche are hazy on battery life, insisting that it depends on so many different factors, but are confident that the unit will easily have at least 80% capacity for the "life of the car", considered to be ten years or 100,000 miles. The battery warranty is six years, while Porsche said that the recyclability of the unit at end-of-life matched high standards agreed with the supplier, but could give no more information.
As a pricey Porsche, specification levels are high and include leather seats, steering wheel controls, front and rear parking sensors, satnav and digital radio.
It's unrealistic to suggest this new offering will make massive in-roads in the green-agenda sector. However, the impressive new figures means some eco-entrepreneurs with cash to burn and a covert petrolhead mentality will be happy to snap up this exciting new luxury model.
Reviewed by Rachel Burgess