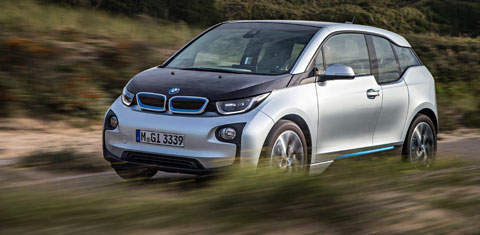 For some reason I expected the i3 to be a small city car, not a stand-up tall people carrier. From a distance it certainly does look futuristic, with its modular panel design, carbon fibre monocoque – designed to reduce weight – counteracting the heavy batteries, which fit neatly into the floor pan. All helping to give the car a great centre of gravity for sweet handling and of course BMW traditional rear wheel drive.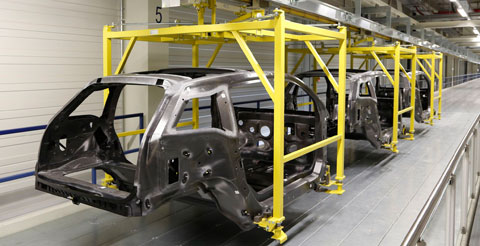 The i3 sits on large, but narrow 18 inch wheels, adding to the cars tall stance, which makes getting in and out very civilized, even though it's effectively only a two door vehicle, as the rear half doors open outwards, similar to BMW's Mini clubman. The only disadvantage of this is it makes the over shoulder visibility pretty shocking! The door frames blocks your vision for those who are in the habit of covering your mirrors blind spot. See below…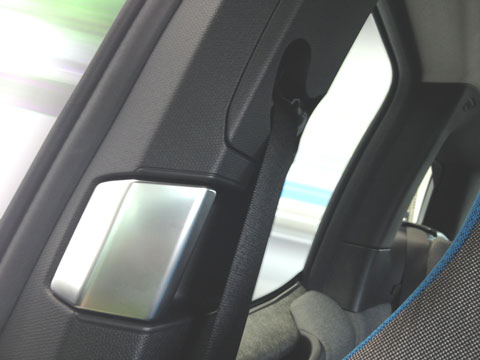 Once inside it's a smart looking place; lots of leg room front and back, hi-tech screens present you with more information than you'll ever need know! My only criticism is that the screens look like you've propped a couple of iPads up on the dash, rather than an integrated dashboard.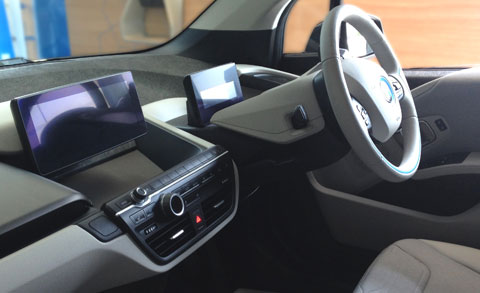 And the steering wheel has light blue metallic piping running round the wheel, likely to get grubby – you can just imagine how that's going to look after 100,000 miles of wear (if the battery pack lasts that long). Apart from that the cabin is a spacious, futuristic environment to travel in.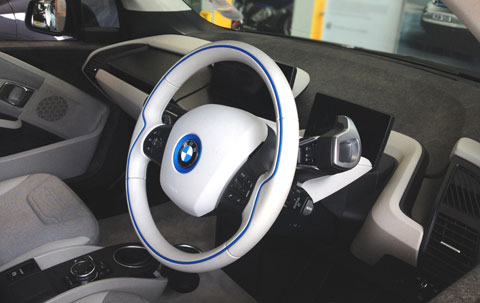 The i3 is a quick car, like most electric vehicles it pulls like a freight train, with bags of torque, O to 60mph is quoted at 7.2 seconds. Which certainly feels quick, however pulling it up does show that even with all its weight saving technologies, it's still a heavy car, due to the size of the battery power pack. Around town the i3 is great fun, instant power is a real eye opener if you've never driven an all-electric car, even motorway cruising is a treat, set the cruise control and you can float silently up the motorway. The only surprise was the regenerative system that charges the batteries when you take your foot off the accelerator, this simulates engine-braking affect found on normal cars. The i3 felt like you had a 4-litre V8 slowing you down, not a tiny electric motor. I did find myself adapting my driving style to make the most of this regeneration and using the brakes very sparingly; all helping extend the batteries life.
The model we drove was the 'range extended' version that has a 650cc motorbike engine running quietly in the back. This only gives you a measly extra 40+ miles range, due to its tiny two-gallon fuel tank. Not much good if you're planning a decent run, strange that BMW couldn't squeeze a bigger tank in. Saying that, the boot capacity is pretty compromised too. Perhaps that's why, or is it something to do with the small capacity of the generators engine? Under the bonnet I expected to see some decent storage, disappointingly there was just room for the power cable!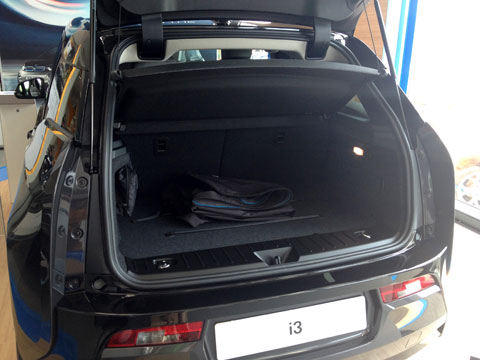 What do you get for the money? A well built, nice looking, comfortable car, quiet and quick. Claimed max range is 118 miles (pure electric versions) that's only 3p per mile. CO2 emissions, if you were using standard mains electricity, would be 57 CO2g/km. Prices start from £30k for the pure electric versions, rising to £33k for the range extender model. Drawbacks? You will still need another car for those long journeys due to 'range extenders' lack of range!
Euro NCAP – BMW i3 – Four Star Crash test