More and more super-wide, oops ultra-widescreens are appearing in the market. We've just spent a few weeks with the Philips 349X7F 34" curved monitor. This screen certainly has a lot of presence – it's huge! Even the delivery box seemed to be supersized; you'll need some serious desk real estate to accommodate this beast. Getting it out of the box even turned out to be a two-person job, not because of the weight it's just so staggeringly wide!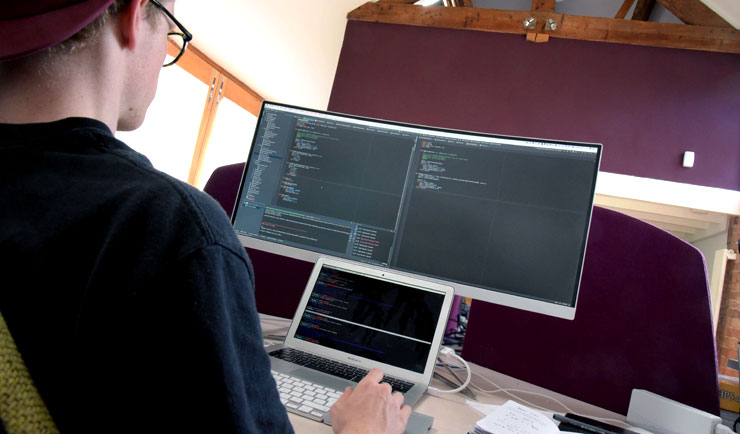 Once unpacked the first thing that struck me about the Philips 349X7 monitor was that it had a separate power supply, and a pretty hefty one at that! Anyone who has to organise their own desk space knows that having a power supply the size of a house brick on your desk is pretty annoying. Saying that the monitor setup was very simple.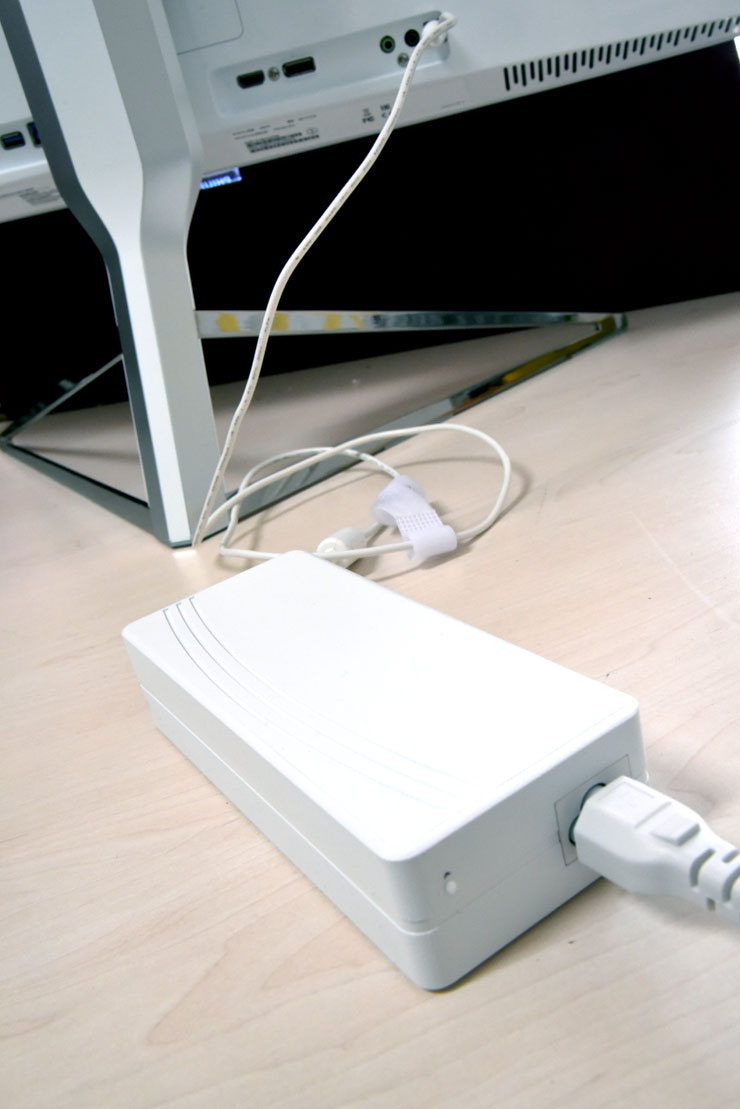 Connectivity – monitor inputs and ergonomics
The 349X7F is certainly well equipped in terms of inputs; it comes supplied with a headphone jack, audio input, display port input, HDMI 2 input, HDMI input, USB upstream, USB fast charger and a USB downstream port. However, there's nothing in terms of cable management loops, or holes in the stand to keep the cables tidy! The stand has plenty of adjustment, making it very easy to get the screen in the most comfortable working position.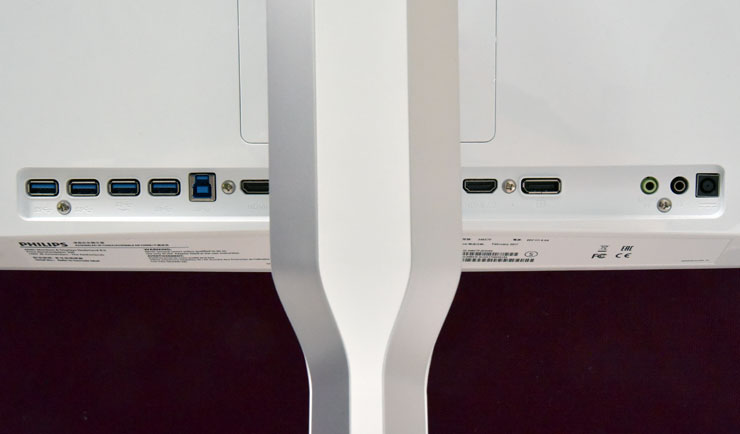 The on-off switch at the back is easy to get at. This switch also acts as a toggle for navigating around the setup menus, and this is reasonably intuitive, much better than my own Philips 32" BDM3270 screen which has touch sensitive buttons.
Curved ultra screens are they any good – what are the benefits?
Are curved screens just marketing hype or a real plus? Having spent some time with this screen I'd definitely recommend it. The immersive effect of the curved screen is pleasing especially when the screen is of this size.  Ultra-wide screens are a much better alternative to a two-screen monitor setup, which I've been working with for many years.
Curved super-wide monitors are much more of a convincing proposition than curved televisions, as you are much closer to the screen; they fill your field of vision. So if you're a gamer looking for the full immersive experience then a curved screen could be for you.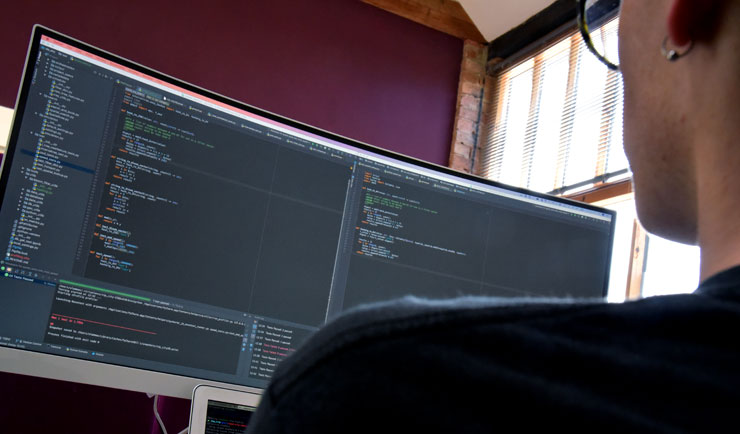 The only caveat I'd add to the curved screen debate is that the distortion effect of the screen can be a little annoying. If you're a designer working with layout, CAD or design software, especially if you're using guides and grids with lots horizontal lines, having these lines appearing bent is  slightly disconcerting. If this is your primary use, a standard ultra-wide flat screen could be a much better option for you.
In terms of productivity gains in using 21:9 screens, I'd certainly recommend going for an ultra-wide screen. If your work involves switching between lots of applications with multiple windows, having these all up on the screen at once is a real bonus. Plus, if you're already using a two-screen setup, not having the screens butted together makes for a much cleaner looking desktop and workspace.
Screen brightness, clarity and resolution
This Philips panel was certainly bright and colour was vibrant and didn't appear to have any colour rendition issues. The resolution is 3440 x 1440 with a Pixel Density: 109.68 PPI, Response time (typical): 4 ms (Gray to Gray)* Brightness: 300 cd/m2 and contrast ratio (typical): 3,000:1. Overall we were very impressed with the image reproduction.
One thing to consider if you're looking to buy one of these monitors is to check if your computer/laptop has the power to drive the screen.
Ultra-wide monitors energy consumption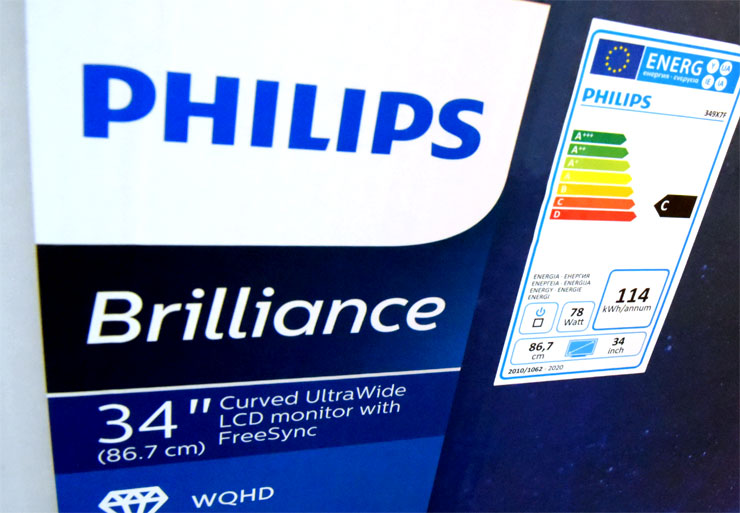 This certainly isn't the most energy efficient monitor we've seen, with an annual consumption of 114 kWh per year (use our energy calculator to see what this costs) 78 watts, that's only C rated. Saying that, if you are replacing a two-screen setup with a single ultra-wide monitor you may well be reducing your energy usage long-term.
Use our energy efficiency tables for monitors to see which are the best products within a given size and price range.
See the most energy efficient...
← SWIPE →