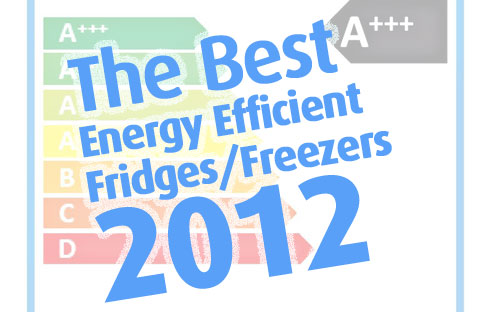 Energy efficiency improvements in refrigeration appliances are up again for 2012. The latest A+++ models will certainly reduce your energy bills.  Our review of the best performing fridges and fridge freezers in 2012 reveals that German manufacturers are leading the way with the most energy efficient fridges and fridge freezers models in the UK.  Liebherr and Bosch/Siemans have the most top ranking products in the past twelve months. Japanese manufacturer Panasonic still top the USA Style Fridge Freezers section, as they did in 2011.
Most Efficient Fridge Freezers Today
Highlight of the year includes the incredibly energy efficient Bosch KSV36AW41G, which only uses £10.72 of electricity a year. With the average lifespan of a fridge being around 14 years (although, judging by our mailbox some models are lasting a lot longer than that!), the lifetime running costs, based on current energy prices, would be around £150.  With energy prices likely to rise, energy efficiency should be top of the agenda when choosing a new appliance.
We're often asked "when should you replace old refrigeration's products?" To help you make a more informed decision Sust-it have created a simple to use 'when should you replace old appliances' energy calculator.  Even if you replace your exiting 12-year-old freezer with an average performing new model you could be looking at savings of 48% on your refrigeration electricity bills.  Go for one of our top performing models and could reduce that by half again.  And, as long as you aren't tempted to use the old fridge as a 'spare' in the garage or to stick it on ebay, your pocket and the environment will be quids in!
The top performing refrigeration products of 2012 were…
Liebherr TPESF1714 Undercounter Fridges
Liebherr TP1760 Undercounter Larder Fridges
Bosch KIR18V60 Larder Fridges (Small)
Bosch KSV36AW41G Larder Fridges (Large)
Liebherr GP1486 Undercounter Freezers
Bosch GSV29VW30G Upright Freezers (Medium)
Bosch GCM28AW30G Chest Freezers (Large)
Siemens KG36EAW40 Fridge Freezers (Medium)
Bosch KGE36AW40G  Fridge Freezers (Medium)
Panasonic  NR-B53VW1 USA Style Fridge Freezers
See the most energy efficient...
← SWIPE →