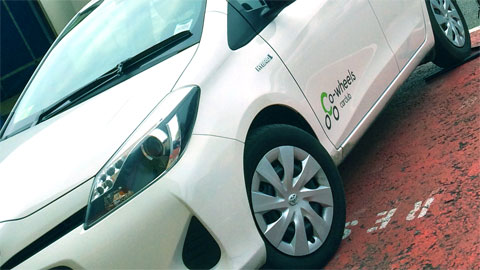 When comparing the costs of urban travel, public transport wins hands down. So is it really worth having a car sitting outside your home if you live in a city?
We all love the freedom of car ownership, brilliant for those 'go any time' trips to the shops, lifts to school or a weekend away. It's only when you factor in the cost of car ownership – tax, insurance, maintenance, repairs, and of course, the dreaded deprecation, that the cash burn rate and hassle kicks in! Not to mention the nightmare of having to find a parking space and parking fees. For those who want car free living, are there any alternatives that offer the flexibility of car ownership, yet are more reliable than your local taxi service?
Happily, yes, there are other options for city dwellers – Car Clubs and Car Sharing are using modern technology to reinvent the car rental industry! Unlike car rentals, where you hire cars by the day/week, car clubs operate on half hour timeslots. All you need to do is join a scheme – they will check you out before you get behind the wheel – pay a membership fee, and then hire a car for the time you need. Access to the vehicle is by your Smartphone or by smart membership card. Most operators have designated drop off and pick points, free roaming cars are becoming more prevalent too – locating these will be from geo locations accessed by your phone.
There are lots of players entering the car sharing market from large corporates such as Avis (ZipCar) to social enterprises like Co–Wheels. Car sharing certainly ticks many boxes from a sustainable transport perspective, as it could effectively reduce the number of cars cluttering up our cities. Factor in the uptake of electric vehicles into these car-sharing fleets and we could be witnessing a dramatic reduction in inner city pollution levels!
How much does it cost? Membership to Zipcar is £60 per year, then £5 per half-hour slot. That's everything, fuel, insurance. Co-Wheels, who began in the North East, offer membership for only £25! Off peak times, midday/midweek, you may even get a real bargain. Weekends get busy – always best to book! A full weekend or week hire are available but could get expensive, best to go for the traditional car hire route I'd say.
Here's a list of the current UK operators and their rates
Co–Wheels – membership £25 from £4.50 per hour
DriveNow – membership £29 from £20 per hour
ZipCar – membership £59.50 from £5 per hour
See the most energy efficient...
← SWIPE →