Replacing your halogen GU10 bulbs for LED equivalents is a great place to start saving on your energy bills. Halogen spotlights became a real trend in the noughties, and they still are judging by kitchen design magazines. The big problem with halogen spotlights is that, whilst being marginally more energy efficient than filament bulbs, they still consume a lot of energy! Especially as they tend to be grouped in larger numbers in kitchens and bathrooms. Having just ten feature lights could cost you £100 per year. Replacing them with modern compact LED bulbs can cut your bills down by 80/90%, plus, because they last so much longer, the lifetime savings should well payoff the upfront cost of the bulbs in the long-term. See our 'How long do bulbs last?' calculator.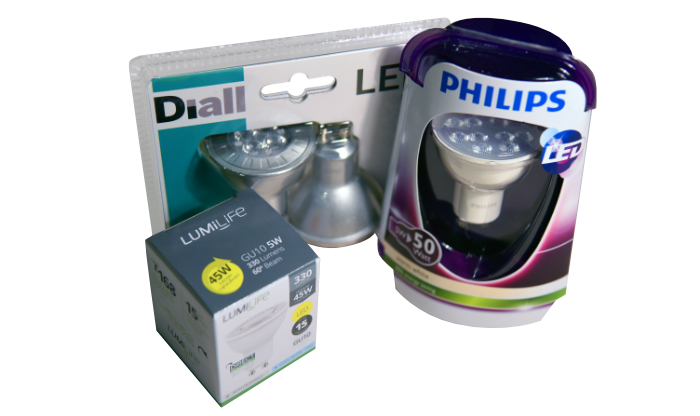 Are LED replacements as bright as Halogens?
LED lighting technology has moved on rapidly in recent years; Whilst early bulbs did lack brightness and tended to be on the cool side of the colour spectrum, modern-day bulbs certainly are as bright as Halogens and come in a wide range of colours for every situation within your home or office. Studies carried out in Denmark and Sweden in 2014 confirmed that consumers are happy with the light quality when compared with the tungsten filament lamps they have been replacing.
Choosing the correct brightness of bulbs is now more confusing with the switch for interpreting light output from 'watts' to the term 'lumens' – which is a more accurate way of measuring light. To help with this we've created an interactive tool to demonstrate how much brighter LED lighting is when compared to halogens and old filament bulbs. Roughly speaking a 50w Halogen bulb should be replaced with a 5w to 8w equivalent GU10 LED. Saying that there are differences in performance between brands; and, unlike the US, in Europe there is no regime for checking the measurement of lumens claimed made by manufacturers.
See the most energy efficient...
← SWIPE →
Lumens to Watts – how to choose light bulbs
Should you go for well-known LED lighting brands?
Now this is where the real value judgement has to be made, yes we know LEDs use far less energy (which is better for the environment) but cost miles more than cheap Halogens. So LEDs only makes sense – from a financial standpoint – if they last as long as suggested. Now this is trickier; from our experience – we installed LEDs within our office and they have either lasted nowhere near their claimed life expectancy, or have started to flicker, (this can happen as a result of poor design or manufacture). However, these were first generation LEDs and have been replaced with modern equivalents that have proved to be far more reliable.
A report commissioned by the EU into the LED lighting market, highlighted that brands such as Philips claim to hold 70% of all patents on LED applications. It almost seems impossible for rival brands to manufacture bulbs without paying a licence fee, or infringing on Philips patents.
The influx of cheaper, imported LED bulbs could be an indication of the quality of the designs and how long they may last. Our advice would be to look for long warranties from the retailers or manufacturers. Guarantees of 5 years are not uncommon – bulb being left on for 25,000 hours (5 years 8 months). One thing to consider is that housing the LED bulbs in an enclosed space with less 10 mm gap around the product will affect its longevity and could make your guarantee void. Above all keep your receipts!
Branded V Own Labelled GU10 LED bulbs?
The pictures below illustrate the difference in brightness between three different LED GU10 bulbs compared to an Eco Halogen. Each bulb was photographed at the same exposure and colour balance settings. Surprisingly all the LEDs appear brighter than Eco Halogen, even though the Halogen had a higher quoted lumens level of 380.
Both the PHILIPS and DIALL (B&Q) have a narrower beam angle (36°) compared to LUMiLIFE which has 60° beam. The beam angle is important to bear in mind when replacing bulbs, a wider beam spreads the light more evenly, especially useful if your light fittings are widely spaced. In terms of brightness all the bulbs produce a clean bright light to the naked eye and seemed very similar in brightness. However, what was really noticeable was the difference between warm coloured bulbs (2770K) when compared to cool white LED's (5000) The cooler temperature bulbs (bluer) appears much brighter, so would be much more suited to areas such as lighting kitchen worktops. The warmer coloured bulb would be more suited to rooms that need a more relaxed atmosphere.
The build quality of all the bulbs seems very good, the only difference being that the PHILIPS bulb appear to have small cooling vents. This should help dissipate any excess heat that can affect the longevity of bulbs.
Overall the quality of light from each bulb was very impressive, certainly better than the halogen tested.
GU10 Bulbs tested
LUMiLIFE (LEDHut) LED GU10 5W = 45w (320 lumens) Colour temperature 2700K
Expected life 25000 hrs Beam Angle 60° Retailing at £3.49*
PHILIPS LED GU10 5W = 50w (350 lumens) Colour temperature 2700K
Expected life 15000 hrs Beam Angle 36° Retailing at £6.00*
DIALL (B&Q) LED GU10 4.8w = 50w (345 lumens) Colour temperature 3000K
Expected life 15000 hrs Beam Angle 36° Retailing at £4.00* each (twin pack)
DIALL (B&Q) Eco Halogen GU10 40w = 50w (380 lumens) Colour temperature 2700K Expected life 2000 hrs Beam Angle 36°Retailing at £1.00*
•Prices March 2016
Colour temperature comparison
LUMiLIFE LED GU10 5W = 45w 320 lumens Colour temperature 2700K
LUMiLIFE LED GU10 5W = 45w 330 lumens Colour temperature 4000K
LUMiLIFE LED GU10 5W = 45w 330 lumens Colour temperature 5000K
Camera: Nikon D750 Exposure 1/50 F8 ISO 2500 Colour balance 5000K. No image manipulation or exposure/colour corrections.
See the most energy efficient...
← SWIPE →