Panic! My washing machines have packed in, I've got a house full of dirty washing and water everywhere! This isn't the best time to start researching the web for the best models and deals, is it?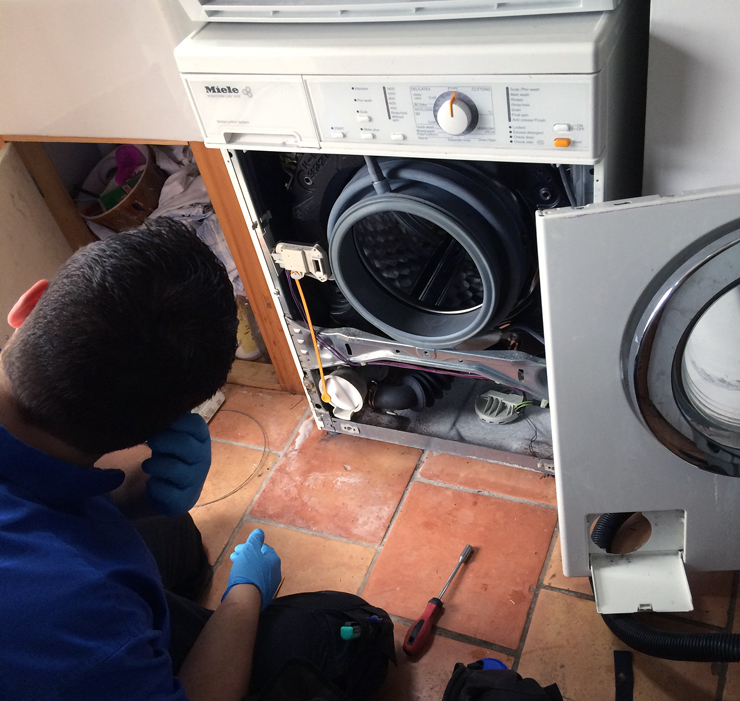 Should I get my washing machine repaired or replace it? And how do I find a local, trustworthy engineer when my local appliance store closed down years ago?
Quick fixes for Washing Machines
If you can't find the manual, the first thing to do is search the make and model number of your current machine (usually found in tiny print on the inside of the washing machine door!) for known faults. There's loads of information on the web, and you may, 'fingers crossed' find that it is a simple fix, such as a blocked outlet pipe or filters. If you can't check in the manual look online. Most modern machines have a filter that you can check for loose coins, bra wires, old tissues, fluff and stuff that finds its way through the machine. Please, please remember to unplug it before you do anything, water and electricity don't mix!
Repair or Replace my washing machine
Once you've eliminated the simple fixes, have a think about the age of your current washing machine and whether it's a well-known premium brand or more of a budget machine. If yours is a cheap and cheerful model and it is over 4 to 5 years old it may well be reaching the end of its life – not good news – but, as they say – "you do get what you pay for". The more premium-badged models should have a longer life and therefore be worth getting fixed. Most of the well-known brands have a customer helpline; this would be my first point of contact to try and get an engineer out to see if it's worth fixing. They should be able to advise you on their local retailer and repair network too if they don't have their own guys. They usually have a minimum call-out charge but it might be worth it.
Another thing to bare-in-mind is the age of your machine. Energy efficiency has improved dramatically in recent years, so could be a false economy to repair an energy-guzzling old machine. To help with this we've developed an online tool to see what savings can be made.
When should you replace old appliances?
See the most energy efficient...
← SWIPE →
Washing machines are easily recyclable and many online retailers will take your old machine away for a small fee. Well worth checking out – before you buy. Some local councils will pick up old appliances for recycling too. If not, taking them to your local recycling centre is the only option, which is okay if you've muscle power and access to a van!
What does it cost to get out a washing machine engineer?
It was not cheap! I recently went through this process after our machine gave up. The callout fee was not far shy of £100 and we had to wait 5 days for him to turn up. Then it took about 10 minutes for him to say it was worn out and had a damaged drum. This was a ten-year-old premium German model. They did offer a reasonable discount if we bought a replacement machine from them if we presented the callout bill at their shop. Previously we've used an independent engineer who charged a £60 callout fee to fix our dishwasher; unfortunately I'd lost his number!
How to choose a washing machine? Drum size and features
A key decision is what size of drum to go for, having a large drum machine can have a real impact on your energy usage. If you're a family household using the washing machine regularly, we'd advise going for a larger drummed machine 7kg to 12kg. You will need to make sure you fill the machine up each time; otherwise, the benefits will diminish if you just wash a t-shirt. They are also very useful for larger loads such as washing duvets. I think we damaged our previous machine by washing too many heavy loads.
Higher spin speed is handy too, as this will reduce the drying time and save energy if you have to use a tumble dryer. Best to check the recommendation of the clothing manufacturer when washing, as high spin speeds can damage more delicate fabrics.
Energy efficiency – using our database of products will show you the most energy-efficient models available. If budgets are tight you can list by purchase price rather than ultimate efficiency. Our running cost calculations also include the water cost, which can add up if you're on a water meter.
Most Efficient Washing Machines
Warranties and guarantees – are a great indication of the manufactures life expectancy. Most machines will a have a one-year warranty, with many offering 3, 5, 8 and even 10-year warranties as to the top of the market.
Smart appliances are starting to appear with ever-increasing features. Okay, it may be handy to be able to control your machine from your mobile, however, if you've forgotten to fill it up that's not much good. Doing your washing when tariffs are cheaper, say at night, may be beneficial if you're on Economy 7. However, all these features will add to the purchase price and you may never use them. One area that smart appliances will be developing is the ability to remotely self-diagnose faults. This could be a great feature that would prevent any downtime of your appliances in the future.
Appliances – Offers, deals, cash back, best buys and revues
Getting a good deal can be as time-consuming as researching what machine to get. Do I support my local shops, or go straight online?
There's no getting away from the fact that buying appliances online has become far easier in recent years. With many retailers offering timed slots, text messages update you where your delivery driver is. And the delivery times have reduced dramatically too. Saying that, there's no reason that your local appliance shop may well be able to match some deals, and give you peace of mind should there be any issues.
It's well worth keeping an eye on online retailer's discounts code offers – we keep an update list of these. Combining these with manufacturer's promotions, extended warranties and cash-back deals, could dramatically bring down the cost of your new machine It does require more effort but is well worth it.
Owners and user reviews can be very persuasive reading, and confusing at times. The real issues with these reviews are that the purchaser is only comparing his/her purchase with their previous machine. They haven't gone out and bought ten washing machines and then chosen the one that performs best. 'Yes,' their new washing machine may be miles better than their old one, purely due to the ever-increasing improvement in technology and manufacturing. Expert reviews are probably a better indication of what's best to buy, even though they can only test a very small amount of the products that are in the shops.
Independent customer reviews of retailers' delivery and after-sales service seem to be a good way of judging retailer's general customer service – as your getting a broad cross-section of views on the same thing.
I hope this information has been useful – good luck with your search!
See the most energy efficient...
← SWIPE →
Please note: We do not publish sponsored content or guest posts that are trying to promote specific products or brands. If you have a genuine newsworthy story you would like to share please do comment or email.