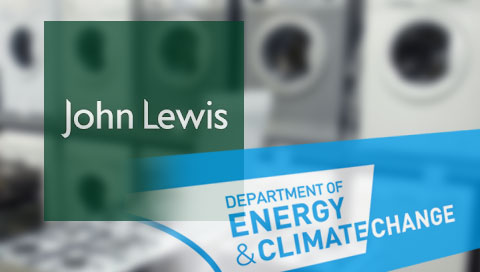 John Lewis and DECC pilot lifetime running cost energy labels as research suggests that consumers find energy labels confusing! You're not kidding! We sometimes struggle to explain some of vagaries of the current energy labeling system. What Sust-it does understand is consumers make purchasing decisions based on pounds and pence not watts and kilowatts or A++++++ to G – that's why we started Sust-it!
So it's good news that DECC have teamed up with John Lewis to pilot energy labels that show the lifetime cost of appliances. Climate Change Secretary Ed Davey launched the pilot this autumn, saying he was hoping that it would give evidence led research that clearer energy labels will influence consumer behavior and we're sure it will! The irony of this of this pilot scheme (19 of its stores over six months) is that we contacted John Lewis back in 2007, offering them the facility to show their customers the running costs of appliances and electricals – unfortunately they declined the opportunity to take the lead.
Now the bad news… from retailers, manufactures, and DECC's perceptive is showing lifetime running costs of appliances a good thing? Or could it be a real double-edged sword in energy reduction terms?  Why?  Most savvy consumer will start adding together 'cost of purchase' and the 'lifetime running costs' (total cost of ownership) which often highlights the cheapest and dare I say least efficient products as being the cheapest throughout their life expectancy! And if you're a retailer who markets their own labeled appliances you could find it difficult to sell in a Fridge Freezer that costs £86.42 to a year to run – lifetime cost: £1339.51 or 'total cost of ownership' of a staggering £5338.50!
Our view is that if you're looking at a cheaper product are you total convinced it will last and be reliable? If not the 'total cost of ownership' is meaningless if you have to replace the appliances two or three times compared to a more expensive better-made machine. Long Manufacturers warranties are often a good indication of the quality of products, our advice is to buy the best you can afford, as the saying goes "you get what you pay for!"